Quick and easy soup recipes: 
Chicken Tortilla Soup
1 Can of Diced or Crushed Tomatoes
1 Can of salsa (any brand)
1 Boneless chicken breast halves (cooked)
1 Package of frozen corn (only use half the bag)
1/4 cup of chopped cilantro 
1 Tbps of ground cumin
1 Tbps of cayenne pepper (optional)
1 Tbps of minced garlic (optional)
1 Bag of Tortilla chips
Dash of Salt/pepper
Directions:
1. Cut boneless chicken breast halves to small pieces. Heat up stove top, add oil, and cook chicken to medium -- make sure chicken is white on the outside/inside but not dry.
2. In a crock pot (small or medium), add can of tomatoes, can of salsa, cooked chicken breast, cumin, cayenne pepper, garlic, corn, and salt/pepper. Cook on low heat for 6 to 8 hours.
3. Garnish with cilantro and tortilla chips.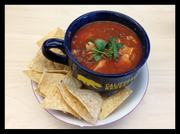 Community content is available under
CC-BY-SA
unless otherwise noted.