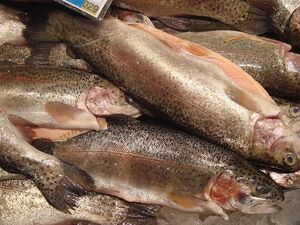 About rainbow trout
Edit
Rainbow trout is popular in Western cuisine and is caught wild and farmed. It has tender flesh and a mild, somewhat nutty flavor. However, farmed trout and those taken from certain lakes have a pronounced earthy flavor which many people find unappealing; many shoppers therefore ascertain the source of the fish before buying. Wild rainbow trout that eat scuds (freshwater shrimp), insects such as flies, and crayfish are the most appealing. Dark red/orange meat indicates that it is either an anadromous steelhead or a farmed Rainbow trout given a supplemental diet with a high astaxanthin content. The resulting pink flesh is marketed under monikers like Ruby Red or Carolina Red.
Steelhead meat is pink like that of salmon, and is more flavorful than the light-colored meat of rainbow trout.
Community content is available under
CC-BY-SA
unless otherwise noted.