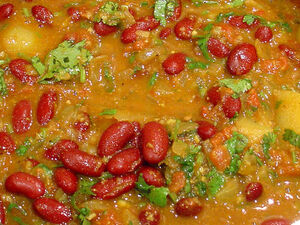 Description
Edit
Kidney beans make an excellent nutritous basis for a vegetarian dish - and this is a popular Indian method for cooking them. Called "rajma" - the kidnet beans are cooked either on their own - or in this Punjabi variation - with potatoes.
Ingredients
Edit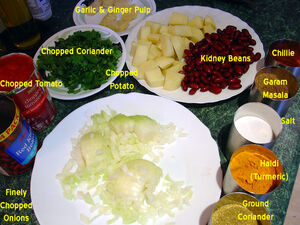 Directions
Edit
Fry the chopped onions in about 2 tablespoons of oil until slightly golden brown. Then toss in the garlic and ginger pulp - and fry for a few minutes more.
Then add the tin of chopped tomatoes - and fry for some more time - until you start to see the oil separating from the mixture.
Then add the Potato chunks and give it a good stir around. Add a glass of cold water and bring to the boil - and let it simmer with the lid on for about 10 minutes. this will partly-cook the Potato.
Then add the drained tins of cooked kidney beans. (MAKE SURE THEY ARE ALREADY COOKED kidney beans - as these beans are poisonous if not soaked in water overnight before cooking!). Then add some more water - perhaps a couple of glassed - and bring to boil and let simmer for around 20 minutes - with the lid off - so that the water slowly evaporates.
When it's of the consistency that you like - stir in the chopped coriander and simmer for a few mor minutes.
At this point you can switch off the heat - and put the lid back on whilst you go prepare some rice or some some roti - or naan/pitta bread - or even toast. Best served with a cool side-salad - and a glass of your favourite red wine!
Recipe by Route 79
Edit
We need a general description of the blog
Community content is available under
CC-BY-SA
unless otherwise noted.