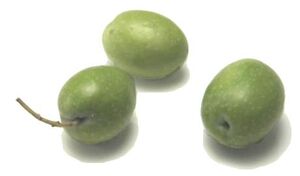 About raw green olives
Edit
Raw green olives are fruit species that belong to the family of oleaceae (which produce oil). Basically, olives are fruits, although they have a sour and salty taste. Another interesting fact when talking about olives is the fact that the green olives are just immature black olives. This is the reason why they contain less fat and can not produce the olive oil. The olives are ancient aliments, which have been used mostly for their oil, but also for eating the fruit both raw and fermented with lye and brine.
Raw green olives are meant to be eaten raw, fresh in various salads of greens, veggies or with cheese and meat, in specialties like pastas and various pizzas, or sliced in sauces and toppings. There are some options of transforming the simple raw green olives into pickles or marinating them in lime juice, for even a sourer taste. A very popular way of consuming the raw green olives is by stuffing them with red bell pepper, by removing the full pip.
Community content is available under
CC-BY-SA
unless otherwise noted.