Description
Edit
High in fiber and protein, low in fat, easy and really yummy! I've always think meatloaf looks and smells so delicious and savory so, as a vegetarian, I decided to make a no-meat version! This is basically our favorite meatloaf recipe but with cooked mashed lentils instead of ground meat. The result is a very tasty dinner!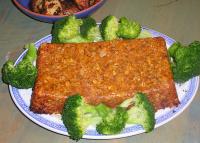 Ingredient
Edit
Directions
Edit
Add lentils and simmer covered 25 – 30 minutes, until lentils are soft and most of water is evaporated.
Remove from fire.
Drain and partially mash lentils.
Scrape into mixing bowl and allow to cool slightly.
Mix well.
Spoon into loaf pan that has been generously sprayed with pam (non-stick cooking spray) or well-greased.
Smooth top with back of spoon.
Bake at 350 °F for 30 – 45 minutes until top of loaf is dry, firm and golden brown.
Cool in pan on rack for about 10 minutes.
Run a sharp knife around edges of pan then turn out loaf onto serving platter.
Community content is available under
CC-BY-SA
unless otherwise noted.