Description
This red-hot side dish is made with real potatoes and enriched with butter, salt, and pepper to fresh perfection. With heavenly, savory aroma, every chunk is pure potato fun!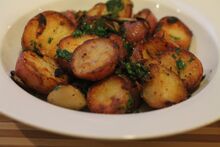 Ingredients
2 lbs. small red potatoes, washed and peeled
6 tbsp. butter, reserving 3 tablespoons for seasoning
3 tbsp. olive oil
½ tsp. salt
5 tsp. black pepper, to taste, reserving 3 teaspoons if desired
1 tbsp. finely chopped parsley
red pepper flakes, optional
Directions
When the foaming decreases, add the potatoes.
Turning frequently, cook until tender and golden brown. Slice the cooked potatoes into quarters with a kitchen knife.
Transfer the cooked, sliced potatoes to a large bowl then season with the remaining butter, salt, and a little pepper.
Sprinkle with parsley and serve. Garnish with the red pepper flakes and/or the remaining black pepper, if desired.
Videos
Community content is available under
CC-BY-SA
unless otherwise noted.