Description
This wholesome meal contains a high volume of water and is average in protein and fat and is recommended for those who intend to increase their body weight and energy. Try out this delicious dish at exclusive restaurants by hotels such as Berjaya Waterfront Hotel or read onto find out how to make it at home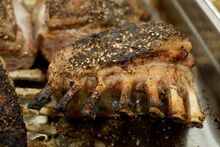 Crown Rack of Lamb
Ingredients
180 gm Rack of lamb(trimmed and cleaned )
20 gm Chopped garlic
5 gm of Freshly Chopped Rosemary
Pinch of Ginger Young peeled and blended
2 ml of Lea and Perrine
0.5 gm Crushed black pepper
5 ml of Olive oil
Method of Preparation
1.     Marinated the rack of lamb with spice mixture and seasoning and set aside for 30 minutes.
2.     Turn into a crown shape and sear on the grill.
3.     Remove from the grill and cook in the oven for minutes at 160 C.
Mashed Purple Sweet Potato
Ingredients
100 gm Mashed roasted purple sweet potato
10 gm peeled and chopped onion
30 ml cooking cream
30 gm of butter
Pinch of Salt
Method of Preparation
1. Heat up the butter on a frying pan and sauté the onion till golden brown.
2. Add the cooking cream, once boiled and salt to taste.
3. Add the mashed potato and mix well together.
4. Roll the cooked mashed potato on a Sushi bamboo roll and serve.
Vegetables
Ingredients
40 gm of peeled Asparagus
30 gm of peeled carrot
10 gm butter
1 pc of Bay leaf
100 ml of vegetable stock
Seasoning to taste
Method of Preparation
1.     Heat the butter up on a frying pan and sauté the onions and bay leaves.
2.     Add the vegetable stock once is boiled and add the seasoning to taste.
3.     Lastly the blanch asparagus and carrots till cooked and serve.
'Ginger Flower and Rosemary Scented Lamb Jus '
Ingredients
 200 ml lamb jus ( demi glaze)
40 gm/ 1 pc of Ginger flower
30 gm of fresh rosemary stalk
10 gm of chopped garlic
40 gm of butter
Method of Preparation
1. Sauté the garlic on a frying pan till golden brown and add the ginger flower and rosemary herb.
2. Once it's fragrant, pour the demi glaze and simmer on slow fire until the liquid is reduced by half, after which it can be served.
Community content is available under
CC-BY-SA
unless otherwise noted.