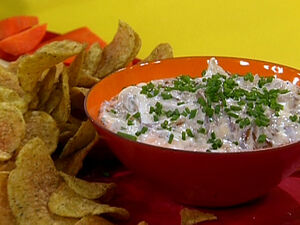 Description
Roasted Sweet Onion Dip from the Public Health Cookbook by the Seattle & King County Department of Public Health—original source of recipe, licensed in the public domain
Cook Time: About 20 minutes
Serves: 8
Ingredients
Directions
Preheat an oven to 425 °F.
Place the onion in a medium bowl and drizzle with olive oil then sprinkle with ½ teaspoon of the salt. Toss to coat.
Just remove the white paper skin from the garlic head but do not peel or separate cloves.
Wrap and seal garlic head in foil.
Place the onion and garlic on a baking sheet and bake for 1 hour. Remove from oven and let cool for 10 minutes.
Chop the onion and place in a medium bowl. Separate garlic cloves and squeeze out pulp then discard skins.
Add ½ teaspoon of salt, sour cream, cilantro and lemon juice to onion mixture and mix well. Cover and chill for 1 hour.
Serve with fresh vegetable sticks or potato, corn, or pita chips. Reserve the remaining vegetable-based dip in the refrigerator.
Nutritional Information
Servings: 2 ¼ cups or 3 teaspoons
Preparation Time: 15 minutes
Cooking Time: 1 hour