About roasted red pepper
Edit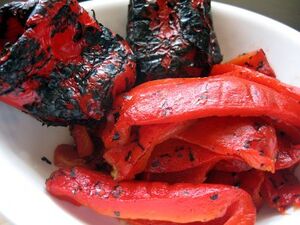 Red ripened bell peppers that have been roasted in some manner. There are several ways in which the red peppers can be roasted. They can be held over an open fame, such as the flame of a gas burner on the stove, placed on a grill, under a broiler, or they can be sautéed in a pan. The peppers are roasted until the outside is blackened and the skin has started to bubble. After they are roasted, the skins are removed and they are cut open to have the seeds removed. Sometimes the peppers have the seeds removed and are cut into strips before they are roasted. Either method can be used. The roasted red peppers have a sweet, roasted flavor. They can be eaten on their own or added to sauces, dips, sandwiches, and salads, or as an ingredient in other dishes. Canned, roasted, red peppers are also available in most food stores.
Community content is available under
CC-BY-SA
unless otherwise noted.