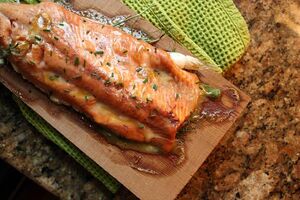 My family had always really enjoyed salmon meals but what kept us coming back to this recipe was its simplicity. The relatively few ingredients means it's a healthy but surprisingly filling meal. Perfect with mustard greens or on a bed of rice.
For 2 or 3 people:
Preheat oven to 475º Farenheight.
Rinse the fish and pat dry. Lay skin-side down on a parchment lined baking pan. (The parchment prevents the fish from sticking to the pan and greatly reduces cleanup time.)
Cut a half-inch deep crosshatch pattern in the salmon. Season lightly with pepper.
Mix the mustard and maple syrup together and smear over the fish. Bake on the middle rack of the oven for 10-12 minutes, or until the salmon is crispy on the outside and medium rare on the inside. Remove the salmon from the oven and cover with foil or a plate for a few minutes to complete cooking. Serve with a squeeze of lemon.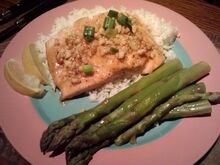 The garnish of a simple dish like this can make a dramatic difference. Try sprinkling chopped green onions, chopped walnuts, or even drizzling some honey over the glazed fish instead of (or in addition to) the lemon wedges.
Community content is available under
CC-BY-SA
unless otherwise noted.