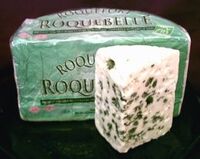 About Roquefort
Edit
This unique French cheese is made from the from the milk of Lacaune breed of Roquefort-Soulzonof and matured only in the natural caves of that region. It has white, crumbly and slightly moist, with distinctive veins of blue mold. It has a characteristic odour and flavor with a notable taste of butyric acid; the blue veins provide a sharp tang. It has no rind; and the exterior is edible and slightly salty.
If not the king of cheeses as many proclaim, Roquefort is at least one of the oldest and best known in the world. This blue cheese has been enjoyed since Roman times and was a favorite of Charlemagne. It is made from sheep's milk that is exposed to a mold known as Penicillium roqueforti and aged for 3 months or more in the limestone caverns of Mount Combalou near the village of Roquefort in southwestern France. This is the only place true Roquefort can be aged. Roquefort has a creamy-rich texture and pungent, piquant somewhat salty flavor. It has a creamy white interior with blue veins and a snowy white rind. It's sold in squat foil wrapped cylinders. A red sheep on the wrapper's emblem can authenticate true Roquefort. The name Roquefort is protected by law from imitators of this remarkable cheese. For example, salad dressings made from blue cheese other than Roquefort cannot be labeled Roquefort dressing. In addition to salad dressings, Roquefort can be used in a wide variety of preparations from savory breads to Canape spreads. Aficionados love Roquefort at the end of a meal served only with fine Sauternes, Port or other Dessert Wine.
Community content is available under
CC-BY-SA
unless otherwise noted.