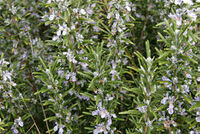 About Rosemary
Edit
Rosemary is a plant that grows well in spring and summer, in warm and humid environments. It grows to a height between 3 to 5 feet. Its botanical name is Rosmarinus is Latin, which means 'dew of the sea'. It is names so because of the fact that it has blue flowers and also grows well near the sea. This plant is often used to signify friendship, which is why on special occasions and even weddings, you will see this flower present.
Tradition has it that the Rosemary plant grows till a height that Christ grew till in a span of thirty years. After reaching that height, it dies on its own. Another tradition associated with Rosemary was that sprigs of its flowers were broken off and placed under pillows to prevent people from having bad dreams and even keep off evil spirits.
The wood from Rosemary was used for making musical instruments such as the lute. As far back as the history of Rosemary is traced, it has been used as an air freshener, to make cosmetics, antiseptic, disinfectants and shampoos.
In more recent times, some people believe that the Rosemary when kept on a desk where you work is stimulating. It is believed that its presence actually gets you to work.
Rosemary also has medicinal properties. It is believed that the same plant that is used a spice is capable of preventing tumors from developing in the body.
Rosemary is primarily used for cooking, and is an important spice. It is believed to go well with lamb. Usually, lamb has slits made in it, into which the sprigs of the Rosemary are tucked in. Also, larger sprigs of this plant are used when you grill lamb.
Rosemary is also used in soups, but it has to be used to a lesser extent to flavor soups. This is because it is actually mixed in the liquid, which magnifies the effects of the spice.
Rosemary may also be used with other dishes. It is often used with fish, and more often with rice dishes.
Another use of Rosemary is that it can be used to protect clothes. It is often placed in sachets after the leaves have dried and then placed in the pockets of clothes. This helps to prevent insects from eating away your clothes. Similar to the effects that Rosemary has on moths that could attack clothes, it is also used to protect other plants in the same way. This is the reason why it is grown along side cabbage and carrots in order to prevent beetles and carrot flies from destroying such vegetation.
Production of Rosemary
Edit
One of the most interesting herbs around is the Rosemary. It is well known for its various characteristics that are both physical as well as psychological. The characteristics that are physical are thought to encompass a great many areas where research has been conducted previously. In addition to this, it can be asserted that the psychological characteristics are such that they include research into how the Rosemary soothes people and how it dies after a particular period and after reaching a particular height. The reasons for this are still being uncovered. At the same time production of this plant is given great importance because of the fact that it appears to have great scope for the future. His is because it is thought that this plant is capable of curing people of ailments and it is also capable of preventing life-threatening diseases. One of the illnesses that may be prevented through using Rosemary is cancer.
For the onset of commercial production, it is said that the leaves of the Rosemary should be light green in color. Commercial production of the Rosemary is thought to be limited because of the plant not being able to do well in winter. This plant grows well in hot and damp conditions. It also grows well at sea sides, and summer and spring are the best times for its production. Fresh rosemary is in demand throughout the year. However, suppliers struggle to make sure they as supply as much as the possibly can through using a greenhouse. Rosemary oil may be used as an antioxidant that is added to cooking oils.
Rosemary originally was cultivated and produced near the Mediterranean area. However, it is grown in many other parts of the world conditions suit its growth. Since it thrives in warmer climatic conditions with air moisture, there are many such areas that favor its production. The rosemary grows best near seasides. It is an erect shrub that looks its best when near the seas side. It is an erect evergreen shrub that can grow to a height of six and a half feet. The leaves and the flowers of this plant are important as they contain all the nutrients that are extracted through various processes.
In addition growing in warm conditions, Rosemary requires well-drained soil to keep its roots from rotting. It also requires proper air circulation to prevent mildew. If this is prevented, the plant grows well.
Rosemary is used in incenses. Therefore, from ancient time still today Rosemary has been used to ward off evil spirits. Rosemary is used to make a necklace that you wear to protect you.
Buying Rosemary
Edit
In order to buy any ingredient from the market you have to know the basic and important points about it. In order to know these important points about any spice or herb you need to study it considerably or have some kind of experience with it.
In order to buy Rosemary, you must know that it is almost pointless buying leaves of this plant from a market when it grows wild, and you can actually take a sprig of it from anywhere.
Also, people usually grow this plant in their gardens, and one could so easily pluck a couple of them out from there two. However, in order not to provoke your neighbor, you should try and get your Rosemary leaves from the market. Usually, Rosemary leaves are sold in packaged and disposable containers. They may also be available in sprinkle-pour bottles.
In addition to Rosemary leaves being available in this form, you may also find them in their fresh form during their season. They will be seen tied in bundles during their season when they are available fresh.
An alternative you have is to grow Rosemary in a kitchen herb garden. When you grow it at home, you would feel tempted to add this herb in as many dishes as you can, and indeed, it can be used in several dishes.
Rosemary can be used in a number of ways. It can be used for breads, cooked greens, marinades, salads and soups. Rosemary may also be used for cooking lamb, as it goes well with lamb. It is usually stuffed into slits made in the lamb, and whether you buy the fresh version or the packaged version of Rosemary, they both do just fine. However, fresh and larger sprigs of Rosemary are used when you grill lamb. Therefore, it can be observed that buying the fresh version and the packaged version can make a difference to what you want to cook.
Rosemary is used for making soups. Again here, it must be observed that you can use both versions of the herb. However, you need to be careful how much you add in soups, as it can become pretty strong in taste. The strength also depends on the amount of the kind of Rosemary you use in your soup.
Sometimes you may not only buy Rosemary leaves for cooking purposes, as you may want to use it for alternative household purposes too. It can be used to protect clothes from insects and deterioration. This is why the leaves are crushed and placed in the form of sachets in pockets of your clothes.
Rosemary Variations
Edit
There are different variations of the Rosemary, and each makes wonderful scenery. The following includes brief descriptions of each variation.
Upright Rosemary: This variation grows outward in order to form a perfect circle. It can cover a diameter from six to eight feet. It also grows to around 2 feet in height. This variation is undoubtedly one of the most beautiful variations of the Rosemary.
Creeping Rosemary: This variation of the Rosemary is one that can cover an area of eight or ten feet, and indeed grows to cover this diameter in quick time. When grown on a second floor, it can grow all the way hanging down, and this beauty is adorned with pale blue flowers.
Pine Scented Rosemary: This variation of the Rosemary has refined leaves that may be quite easily chopped. Many chefs favor this variation of the Rosemary for its quality. The leaves of this Rosemary are different from others because of the fact that other Rosemary varieties tend to have leaves that are quite coarse. If the leaves are coarse, they can be difficult to deal with when they are fresh. The Pine scented Rosemary makes great scenic view because it is a soft sea green color.
Arp Rosemary: This is one variation of the Rosemary that has winter tolerance. This variation was found Madeline Hill in Arp, which is a town in the state of Texas. It is said that this variation has survived winters in the Chase Western University Botanic Garden located in Cleveland, Ohio.
Pink Rosemary: This variation of the Rosemary is one with the thinnest leaves. It also has lovely curved branches that extend like exclamation marks. With its many spectacular flowers, it gives a pink look at a distance because of its collective effect.
White Rosemary: This is an erect and wonderful version of the Rosemary. It has fat leaves and white flowers. These flowers are wonderfully marked with a spot of blue in their throats. The branches look like candelabras.
Dancing Waters Rosemary: This is a particularly graceful variation of the Rosemary. It has dark blue flowers that look magnificent in a natural scene.
Golden Rain Rosemary: This variation of the Rosemary has weeping foliage. It turns darker green in summer, but lightens up in the cooler weather.
Blue Boy Rosemary: This is the tiniest of Rosemary varieties. This variation has small leaves and blue pearl flowers. This variation grows, spreading out to cover an area of about 12 inches. However, it hard grows beyond six inches in height.
Spice Islands Rosemary: This variation has thick juicy leaves, and this plant grows upright and has a dark blue flower.
Preparing Rosemary
Edit
Rosemary is one of the most fascinating herbs you could have in your kitchen. There are several dishes that you may cook using it, and you would certainly be tempted to use this herb if you get familiar with it. Experience with preparing Rosemary and using it is important in order for you to know the right quantity to put in your food and soups. Making use of the packaged form as well as the fresh form available during the warm season is important because small amounts added make a big difference in the taste of your food.
If Rosemary is used in the packaged form, you should know that you do not need to go through much of a process before using it. It is almost ready to use and requires no preparation. The same goes for the sprinkle version of the herb that is available in sprinkle-bottles at the market. This is a dried version of Rosemary that is pretty useful. However, you do not much choice but to use this version when Rosemary is not in season and no fresh herbs are available on the market shelves.
Rosemary is used as a seasoning agent in many dishes. It may be used in dishes such as vegetables, meat (mainly lamb), fruit salads, soups, fish, stuffings, dressings, egg dishes and breads.
Rosemary goes very well with tofu and potatoes. Preparing Rosemary for these foods is simple and no work is involved init. Rosemary is a classic Italian pizza herb, and may be used along with oregano.
Preparing Rosemary for a simple stuffing for roast chicken is a delight. In addition to this, with its pinelike, camphor flavor, this herb (rosemary) has more flavor and delight init than most herbs.
The Rosemary's flavor is not reduced when it is cooked. With Rosemary being a powerful herb, you should be careful and prepare a little of it at a time for any meal. It is indeed better to add less of it than to add too much. This is simply because of the fact that if you add less you could always ad more if needed. However, if you add in too much, the taste of your dish may be overcome by the flavor of Rosemary.
Rosemary is thought to go best with chives, parsley, bay leaves, chervil, and thyme. One of the best Rosemary variations to use for salads is the blue rosemary flower. These are edible and are commonly used to garnish salads.
Cooking Rosemary
Edit
Rosemary is one of the most interesting herbs to cook with. It is interesting to know as well that there are several variations of this herb, and so, you have a wide variety to choose from. However, when you cook with these herbs you will know which ones are the best for you to use. Generally, in the market you will find particular kinds on the shelves ready for you to use as they are. The packaged ones you may use as well and they are dried because they are actually out of season. When in season, Rosemary is sold in sprigs that are bundled up. This is because they are fresh during the warm seasons.
Rosemary maybe cooked in a number of ways, and this depends on the dishes that you cook. Indeed, there are several dishes that you could cook using it, and you need to be careful about the quantity you add in as well. Different forms Rosemary have different strengths, and once you gain some experience with using this herb to cook you will be able to understand its use better.
It is known that there is a wafting fragrance that is emitted from the herb Rosemary on hot days, and this can be cooling and refreshing. However, the effects that this herb can bring outside the kitchen are less important to what it can do in the kitchen.
An example of cooking with Rosemary is demonstrated in the following dish called Red Stew.
Red Stew is a dish that is suited to winter. It is an excellent dish that developed many years ago. It is made with vegetables, but previously it was made with meat. It indeed makes a great lunch. And is served with fresh sourdough bread. Alternatively, it may be served with a side dish for pot roast.
The recipe includes: • 2-15 ounce cans Stewed Tomatoes • 2-15 ounce cans Tomato Sauce • 2-8 inch Sprigs Rosemary • 3 or 4 large potatoes washed and cut • 5 or 6 large carrots washed and cut • Salt and Pepper to taste
Preparation: You need to cook the carrots the carrots, sauce and tomatoes with a low flame. This should be done for about an hour. Then, add in the potatoes and rosemary, and allow the dish to cook on a low flame till the vegetables tenderize. This would take another our or so. During the ending half hour of cooking this meal, you need to slowly add rosemary to gradually develop the flavor you desire.
Storing Rosemary
Edit
The art of cooking any food also has a great deal to do with how you store foods. It is important to remember that when you cook with herbs such as Rosemary, you must know how to store them. This is because they can go stale easily if not looked after. Also, it must be realized that herbs like Rosemary come by during their season. Therefore, you need to look after what you have. Although you would get dried packaged versions of the Rosemary when it is out of season, but it is better to look after what you have already purchased.
Based on the fact that Rosemary is an aromatic herb, you need to store it properly so that it does not lose its aroma. The best suggestion for storing any herb like Rosemary would be to put in a glass jar. In this way, it would be kept away from outside air contact and retain its freshness and aroma. You should also make sure you do not put in any other herb along with Rosemary in a bottle. This is because the effects of Rosemary might pas on to the other herb or vice versa. Either way, Rosemary would lose its effects. Whether you are talking about fresh Rosemary or the dried packaged version, the treatment for them is the same.
Other ides of storing Rosemary includes storing fresh rosemary in plastic bags. Some people prefer to store it in glass jars and refrigerate them. This makes sense because when it is stored in the refrigerator, the lower temperature prevents decay. In order to dry Rosemary on your own, you can hang out sprigs of it in a warm zone. Prior to storing these sprigs you need to remove the leaves. You can then store them in a cool dry place in an airtight jar.
Before you use rosemary leaves, you would need to crush them. Sine you may have stored the sprigs yourself, it is important to make sure that they are in an appropriate size for use in dishes. One more important reason for crushing the sprigs properly is to prevent an uncomfortable feeling of these leaves poking your mouth when you swallow the food in which you have added Rosemary.
Rosemary is used for a variety of dishes that includes meats (mostly lamb), fish, eggs, stuffings, fruit salads, soups, vegetables, dressings and desserts too.
Rosemary Nutrition
Edit
One of the most interesting plants and flowers too is the rosemary. It is a herb that is thought to have extraordinary qualities. It is thought that Rosemary can be another scientific breakthrough in prevent cancer. This is because according to research recently conducted Rosemary can help prevent lung caner, colon cancer and breast cancer. These studies are limited at the moment but there is a sign of hope with this spice.
Rosemary oil may benefit you, but you should not take it in large quantities because it may be poisonous for you. It is thought that pregnant women should not use Rosemary as a tea or in large amounts. However, it is said that it's fine to use it as a seasoning agent in food.
Among other nutritional advantages of using Rosemary, it is said to be good for the digestive system. This automatically would mean that it would be beneficial for you to have it your food if the recipe permits it. It is also thought to relieve menstrual cramps. Here again, it must be asserted that Rosemary should not be consumed in excessive amounts because it could have adverse effects.
A tea made from Rosemary is thought to soothe one's nerves. Therefore, it can be said that its capability of soothing and calming one with its presence might well be true.
Rosemary is used as an antispasmodic, an antioxidant and an antiseptic. Rosemary is a vital herb used in European medicine. For a very long time they have been using this herb to treat stomach upset, pains, treat arthritis, baldness, headaches, strains, cuts, scrapes, and bruises.
Modern nutritional research has gone into the following areas:
• Alzheimer's disease • Cancer • Circulatory problems • Eczema • Irritable bowel syndrome • Menstrual cramps • Yeast infection
The following reveals the proportions in which nutrients are present in Rosemary:
• Rosemary, fresh, 1 Tbsp (5g) • Calories: 2.2 • Protein: 0.05g • Carbohydrate: 0.35g • Total Fat: 0.1g • Fiber: 0.24g
Considering the nutrient content that is revealed regarding Rosemary, it must be asserted that there are a great many things that this herb is used for. This perhaps means that there is a great deal left to understand about it. The way it works and how it has soothing effects on people is yet to be determined. However, for now the cures and preventions of the Rosemary are of primary concern.
Rosemary Nutritional Research
Edit
Rosemary is one of the most intriguing plants and flowers. The tradition that comes along with it is quite surprising, as not many plants have such associations along with them. However, it is often thought that this plant is sacred because of the similarity drawn with Christian beliefs. However, it is a miraculous plant because it has so many wonders about it that are still being covered.
The range of ailments and conditions that the Rosemary is thought to cure is quite vast. These areas are still being researched in detail, and particularly the areas of interest are related to cancer. It is thought that using this herb in the correct quantity can reduce the chances of you getting cancer. Using it in the correct quantity also helps to prevent or cure other ailments as well.
Research has also discovered that if Rosemary is consumed in large quantities it can be poisonous or can cause more pain instead of reducing it.
In addition to the physical aspects of the cure that nutritional research has aimed at covering, there is also research conducted into the manner in which this tree helps to sooth one's nerves. There is also a tea made from the Rosemary in order to calm people's nerves.
Community content is available under
CC-BY-SA
unless otherwise noted.