Description
[
]
This red-hot, vegetarian side dish starts with real vegetables and balsamic vinegar and is great with any meal. For a steamy, savory aroma with the potatoes, chili oil sometimes works for this, too.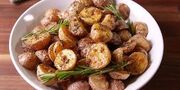 Ingredients
[
]
Directions
[
]
Preheat an oven to 425° F.
Halve or quarter potatoes lengthwise into bite-size pieces.
Place them in a 13-x-9-inch gratin dish or shallow, baking dish, and add garlic, oil and rosemary, and salt and pepper to taste.
Cover a dish with the lid or foil, leaving a gap so steam can escape.
Place a dish on the center oven rack and cook potatoes for 15 minutes.
Remove the covering and stir the potatoes. Bake, until they test done when pierced with a paring knife, about 15 minutes.
Remove from the oven, and sprinkle 1 teaspoon of balsamic vinegar over potatoes, stirring to coat. Serve hot and plain or with any side dish, main dish, or appetizer.
Optional variation
[
]
Serve hot. Top with the rosemary butter, if desired.
Videos
[
]