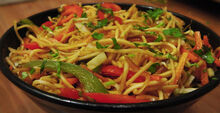 Sichuan means spice. True to its name, this dish is a delectable blend of spicy flavors. This dish does not contain Ajinomoto. Taste of the noodles comes through a sauce called Sichuan sauce. The technique of processing the sauce is also been shared through the recipe article. The liberal use of garlic and Sichuan pepper is the secret of the sauce.
PREPARATION TIME - 15 MINUTES COOKING TIME - 10 MINUTES SERVES AS - 4 PERSONS
ALSO READ :
INGREDIENTS
Edit
Boiled Hakka noodles - 5 cups
Finely sliced mixed vegetables(carrots, cabbage, French beans bell peppers or any other vegetables as per your choice)
Cooking oil - 2 tbsp
Salt to taste
INGREDIENTS OF SAUCE (FOR SMALL 1 JAR)
Edit
Whole dry red chilies - 15  Garlic cloves - one fourth cup  Finely chopped garlic - 2 tbsp  Ginger chopped - 2 tbsp  White vinegar - 2 tbsp  Tomato ketchup - 3 tbsp  Dark soy sauce- 1 tbsp  Sichuan pepper powder - 2 tsp (optional only for flavor)  Sugar - 2 tsp  salt to taste  Oil - 2 tsp ( sesame oil or any cooking oil)
Heat oil in a wok or pan on high flame.  Add mixed vegetables, saute for 5 minutes.  Add 2 to 3 tbsp Sichuan sauce, mix well , cook for another 5 minutes.  Add noodles, toss and serve
PROCESS FOR SAUCE
Edit
Sock whole dry red chilies and garlic in hot water for half an hour.  Blend to make a fine paste.  Heat oil on high flame, simmer and add chopped garlic, ginger and onion, cook until tender.  Add red chili paste, add 1 cup water, cover and cook for 15 minutes, when water almost evaporates , add rest of ingredients, mix well, cook for another 3 minutes.
Community content is available under
CC-BY-SA
unless otherwise noted.