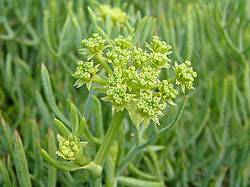 Name Variations
Edit
sea green bean
pousse-pierre
passe-pierre
pousse-pied
salicornia
glasswort
seabean
marsh samphire
sea pickle
About Samphire
Edit
There are two edible, very similar plants known as samphire. The first is Crithmum maritimum (commonly referred to as rock samphire), which grows along the coasts of Great Britain and northwestern Europe and is avail-able in the United States only through costly import. What we have in the United States is the second type of samphire known as salicornia, (also called glasswort, marsh samphire, sea bean and sea pickle). It's abundant along both the Pacific and Atlantic coasts and has spiky green leaves that are so arranged as to make the plant look somewhat like a spindly, miniature cactus, sans needles. Both the leaves and stem are crisp, aromatic and taste of a salty sea breeze. They're often pickled and can sometimes be found in jars in gourmet markets. Fresh salicornia can be found from summer through fall, though it's at its most tender during summer months. Choose crisp, brightly colored sprigs with no sign of softness. Refrigerate tightly wrapped for up to 2 weeks-4hough the sooner salicornia is used the better the flavor. It's best used fresh, either in salads or as a garnish. When cooked, salicornia tends to taste quite salty and fishy.
Community content is available under
CC-BY-SA
unless otherwise noted.