Description
Edit
In Scotland the Harvest Festival usually takes place during September. Offerings of fruit and vegetables are placed around the church altar for a thanksgiving service that would make sure there was a good crop for the next year. Congregation members who did not grow their own vegetables or fruit bring caned goods. After the service the offerings of fresh produce and canned goods are given to those less fortunate. People take great pride in decorating the churches and often keep the best of the harvest from their own backyard crops for this festival. At the end of the service the produce items that have been left as offerings are each blessed and sent to hospitals and other institutions for the sick and needy. In addition to taking lots of our garden produce to church, my mother used to make gallons of this soup and then hand-deliver it to some residents of our village who not only were less fortunate than we were, but also were too infirm to prepare foods for themselves.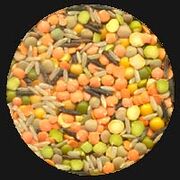 Ingredients
Edit
Directions
Edit
Melt the butter in a large saucepan, place all the prepared vegetables into the pan and stir over a gentle heat to coat with the butter.
Dissolve the stock cubes in the water and pour over the meat and vegetables.
Add the salt and pepper and simmer gently over a low heat for 11⁄2 hours.
Remove the soup from the heat if not needed immediately.
To serve, bring to the boil, check the seasoning and add more salt and/or pepper if desired.
The soup may be liquidized or puréed and then reheated for a smoother texture, if preferred.
Other Links
Edit
See also
Edit
Community content is available under
CC-BY-SA
unless otherwise noted.