Description
Edit
You won't find this one in the Campbell's Soup section of your local grocery store! When I was a child, this was a family favourite and my mother made it fairly often. Nowadays, oxtails are becoming increasingly hard to find, although you might get some from an old-fashioned butcher or meat market. Therefore, some folks now substitute inexpensive cuts of bone-in Beef. Here, in the metropolitan Washington, DC area, I can occasionally get oxtails from the meat department at some of the Giant Food supermarkets. In my opinion, it is well worth the hunt for oxtails, because the taste is very distinctive and differen t than any Beef soup.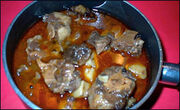 Ingredients
Edit
Spice bag
Edit
Directions
Edit
To make the spice bag, place 1 bay leaf, 3 sprigs thyme, 4 large sprigs parsley (including stalks), one 4-inch piece celery stalked with leaves, and two whole green onions in the center of a square of double thickness cheesecloth.
Fold up the sides of the cheesecloth and tie off the top very tightly to make a spice bag.
Equivalent dry herbs may be substituted.
Fry the oxtail pieces and the vegetables in the fat for a few minutes until lightly browned.
Remove from heat.
Pour the beef stock into a saucepan and add the fried oxtail and vegetables as well as the spice bag.
Bring to the boil, and then transfer to a crockpot and cook on high for 11⁄2– 2 hours (or longer if necessary) until the meat is tender.
Strain the stock, cut all the meat (in small pieces) from the bones and then return the stock and meat to the pan.
Bring to the boil.
Puree.
Mix the flour and port together and add to the soup.
Simmer for 5 minutes before serving.
Other Links
Edit
See also
Edit
Community content is available under
CC-BY-SA
unless otherwise noted.