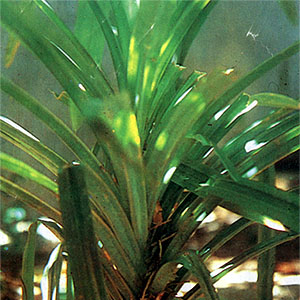 Name Variations
Edit
screwpine leaf
bai toey
bai touy
pandanus leaf
daun pandan
pandan leaf
kewra
rampe leaf
About Screw pine leaf
Edit
Wikipedia Article About Screw pine leaf on Wikipedia
The leaves have a sweet aroma which can be used as a flavoring for rice and for puddings and other desserts. The pigment is also used as food coloring. Pandanas leaves can be purchased in "bundles" in some Asian grocery stores. Other products made from the pandan include pandan essence and pandan juice.
Pandan leaf can be used as a complement to chocolate in many dishes, such as ice cream. They are known as daun pandan in Indonesian and Malay; and 斑蘭 (bān lán) in Mandarin. Fresh leaves are typically torn into strips, tied in a knot to facilitate removal, placed in the cooking liquid, then removed at the end of cooking. Dried leaves and bottled extract may be bought in some places.
Popular in the cooking of Southeast Asia (particularly Indonesian, Malaysian and Thai), screw pine leaves have a floral flavor and are used most often to flavor rice dishes and puddings. Their intense green hue also makes them useful as a natural food coloring. Screw pine leaves are available in Asian markets sometimes fresh and always dried. They're also called daunpandan, pandanus and kewra.
Pandanus is a large genus of between 600-700 species of tree- or shrub-like flowering plants in the family Pandanaceae. The genus is native to the Old World tropics and western Pacific Ocean islands, with the largest number of species in Madagascar and Malesia (Wagner, Herbst, & Sohmer 1990). They are typically found in lower forested areas, savanahs, and along wetter shoreline regions. They are sometimes called screwpines because their long, flat leaves grow in a spiral pattern.
Community content is available under
CC-BY-SA
unless otherwise noted.