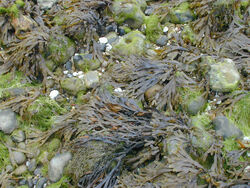 About Seaweed
Edit
Seaweeds are consumed by coastal people, particularly in East Asia, e.g., Japan, China, Korea, Taiwan, Thailand, Cambodia, and Vietnam, but also in Indonesia, Belize, Peru, Chile the Canadian Maritimes, Scandinavia, Ireland, Wales, California, Philippines, and Scotland. Tiwi, Albay residents discovered a new pancit or noodles made from seaweed, which has health benefits. It is rich in calcium, magnesium and iodine, and seaweed noodles can be cooked into pancit canton, pancit luglug, spaghetti or carbonara.
In Asia, Zicai (紫菜) (in China), gim (in Korea) and nori (in Japan) are sheets of dried Porphyra used in soups or to wrap sushi. Chondrus crispus (commonly known as Irish moss or carrageenan moss) is another red alga used in producing various food additives, along with Kappaphycus and various gigartinoid seaweeds. Porphyra is a red alga used in Wales to make laver. Laverbread, made from oats and the laver, is a popular dish there. Affectionately called "Dulce" in northern Belize, seaweeds are mixed with milk, nutmeg, cinnamon, and vanilla to make a common beverage.
Seaweeds are also harvested or cultivated for the extraction of alginate, agar and carrageenan, gelatinous substances collectively known as hydrocolloids or phycocolloids. Hydrocolloids have attained commercial significance as food additives. The food industry exploits their gelling, water-retention, emulsifying and other physical properties. Agar is used in foods such as confectionery, meat and poultry products, desserts and beverages and moulded foods. Carrageenan is used in salad dressings and sauces, dietetic foods, and as a preservative in meat and fish products, dairy items and baked goods.
List of Seaweed
Edit
See also
Edit
Community content is available under
CC-BY-SA
unless otherwise noted.