Description
[
]
This golden, tangy marinade has three ingredients - sesame seeds, sesame oil, and ginger - and is often used for meat, poultry, and seafood. This is normally great for grilling, roasting, or frying, as it only keeps a bold, natural aroma with the oils, ginger, honey, and condiments.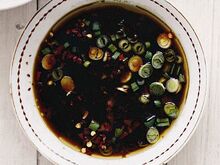 Ingredients
[
]
Directions
[
]
Whisk together all ingredients until well blended.
Use on meat, seafood, or poultry.
Spoon, funnel, or pour remaining contents into the glass or plastic jar. Cover and chill.
Nutritional Information
[
]
Servings: 6 teaspoons or 2-3 cups
Videos
[
]