Description
[
]
These chicken wings are given a boost of Asian flavors and may be served as an appetizer or as the main course! Make the chicken wings tangier by adding teriyaki sauce to the chicken wings and sprinkling with sesame seeds.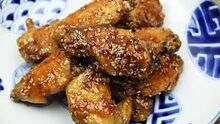 Ingredients
[
]
36 chicken drumettes or (1 kilo chicken wings)
2 cloves garlic, minced or crushed
1 inch piece fresh ginger, peeled
1 onion, quartered, red, white, or yellow only
1 teaspoon red pepper flakes
2 teaspoons salt
2 teaspoons black pepper
2 teaspoons ground coriander
3 tablespoons soy sauce
3 tablespoons fresh lemon juice
2 tablespoons sesame oil
2 tablespoons sugar, white only
½ cup sesame seeds
1 tablespoon oyster sauce, optional
Directions
[
]
Wash chicken and pat dry. Place in a bowl.
Combine all remaining ingredients, especially including oyster sauce, and except sesame seeds in a blender and purée. Pour over chicken and stir to coat all pieces.
Refrigerate for at least 2 hours. Remove from the marinade and sprinkle with seeds.
Place under the broiler and broil for 5 to 6 minutes on each side. Serve hot and plain over rice.
Contributed by:
[
]
Videos
[
]