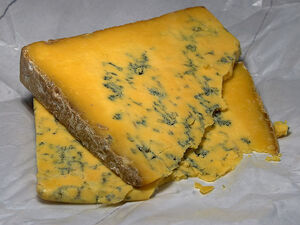 About Shropshire blue cheese
Edit
Shropshire Blue is a cow's milk cheese made in the United Kingdom. The cheese was first made in the 1970s at the Castle Stuart dairy in Inverness, Scotland by Andy Williamson, a cheesemaker who had trained in the making of Stilton cheese in Nottinghamshire. The cheese was first known as 'Inverness-shire Blue' or 'Blue Stuart', but was eventually marketed as 'Shropshire Blue', a name chosen to help increase its popularity, despite it having no link to the county of Shropshire.
After the Castle Stuart dairy was closed down in 1980, the cheese was revived by Elliot Hulme and Harry Hanlin of Cheshire, but once again the manufacture soon ceased. The cheese is now made by the Long Clawson, Leicestershire and the Cropwell Bishop and Colston Bassett dairies in Nottinghamshire.
It is now also being made in the county of Shropshire in two small artisan dairy in the Ludlow Food Centre and Mr Moyden's Handmade Cheese Newport, Shropshire.
Community content is available under
CC-BY-SA
unless otherwise noted.