Description
Edit
The cake originates from Siena, in the Tuscan region of Italy, where it is very popular and is exported to many countries.
It is a perfect accompaniment to after-dinner coffee.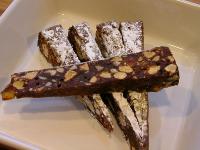 NOTE:
The Julesong photo accompanying this cake was taken about a month after it was made, because this cake can keep for so long and we forgot to take pics when it was newly done and the powdered sugar was still all pretty.
Please excuse the slightly messy nature of the cake in the photo :).
Ingredients
Edit
Directions
Edit
Bring to a boil, then reduce heat and simmer for 5 minutes.
Add chocolate to saucepan, stir until melted, and remove from heat.
Combine with fruit and nut mixture.
Cut parchment paper circle to fit bottom of 8" well-buttered round cake pan, then butter the paper and evenly spread the batter into the pan.
Bake at 300 °F for 35 minutes.
Let cool in pan.
Remove cake from pan, wrap in foil, and let stand overnight.
Sprinkle with powdered sugar and cut into thin wedges.
Wrapped in aluminum foil to stay air-tight, it will keep for weeks, refrigeration not needed.
Community content is available under
CC-BY-SA
unless otherwise noted.