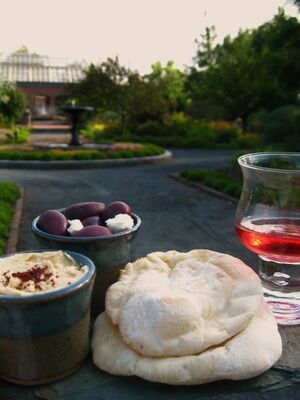 Ingredients
hummus (recipe below)
pita bread (recipe below)
purple olives
feta cheese
strongwine (any fortified wine will work, such as port or sherry)
Hummus
1-2 cloves garlic
1 (19 ounce) can garbanzo beans, half the liquid reserved
4 tablespoons lemon juice
2 tablespoons tahini
1 teaspoon salt
2 tablespoons olive oil
Aleppo Pepper (optional)
Pita Bread
1/2 cup warm water
1 Tbs. honey
1 package of yeast, about 2 1/4 tsp.
3 cups all purpose flour, plus more for kneading
1 1/4 teaspoon salt
1 cup lukewarm water
olive oil
Directions
Hummus: Chop the garlic up in a food processor and then pour garbanzo beans into processor. Reserve about a tablespoon for garnish. Add lemon juice, tahini, and salt, and then blend it all together until creamy and well mixed. Transfer the mixture to a medium serving bowl. Make a decorative imprint in the top, pour olive oil over, and sprinkle with pepper to taste. Garnish your hummus with the reserved garbanzo beans.
Pita bread: Dissolve your honey in 1/2 cup of warm water (careful: if the water is too hot it will kill the yeast). Add the yeast and let it sit for 10-15 minutes until it looks bubbly. In a large bowl, combine the flour and salt and then pour the yeast mixture into the middle of this bowl. Add the additional 1 cup of warm water to the mix and stir it all together until the dough has pulled together. Turn the dough out onto a lightly floured surface and knead for 5-10 minutes until the dough bounces back after being poked. This mean it is ready to rise. Grease a large bowl with olive oil and place your dough in it, and then cover loosely with plastic wrap or a damp dishcloth. Allow the dough to rise in a warm place until doubled in size (roughly 1 hour).
Place a flat baking sheet in the oven, and preheat the oven to 500F. Deflate the dough, and divide it into 15-20 pieces. Roll each piece out into a flat disc and, once the oven is at the right temperature, toss a couple of these rounds of dough onto the hot baking sheet. Close the oven door, and watch the pita carefully. It should puff up within a minute or two. After it puffs up, flip each one over, and bake for another minute. Remove the pitas from oven and let them cool before enjoying!
For a complete meal of simple Dornish fare, simply add some nice olives, a bit of tangy feta cheese, and a glass of strongwine!
External Links
Community content is available under
CC-BY-SA
unless otherwise noted.