Description
[
]
This is a Filipino favorite, made up of pork ear, or jowls, or head and liver. When it comes to pork, serve up a sizzling treat with other meals and top it off by garnishing with other herbs and spices.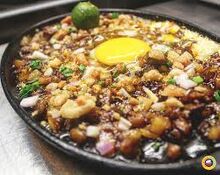 Ingredients
[
]
2 lbs. pork, with ear and jowl
1 lb. pork liver
1 onion, minced, red, white, or yellow only
1 head garlic, chopped
5 pieces red chili peppers
¼ cup red bell pepper
¼ cup soy sauce, dark or light only
5 teaspoons calamansi
1 large egg
mayonnaise, optional
Directions
[
]
Boil pork ear with pepper and salt until tender (tenderness determined if a fork can easily pass through). It takes 1-1.5 hours. Add liver on the last minute of boiling. Avoid overboiling the liver.
Remove the ear and liver from the water and let it stand for around 30 minutes.
Place the ear in aluminum-lined tray and broil for 25 minutes. The liver can also be broiled for 10 minutes but make sure not to overdo.
Chop ears and liver into small pieces with the chef's knife or the cleaver.
Sauté garlic, onion, bell pepper and red chili pepper; then add the pork ear. Season with soy sauce and calamansi. Add liver and mix.
Pour into a sizzling plate.
Top with the fresh egg and mix while still hot. Add mayonnaise, if desired, then serve hot and plain over rice.
Videos
[
]