Contributed by Catsrecipes Y-Group
Source: My old recipes
Serves 6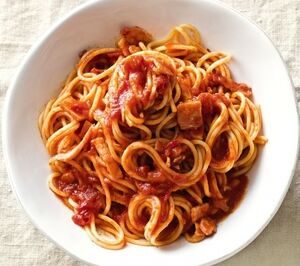 wrinhd
In pan, heat oil (olive or sunflower oil) over medium heat.
When oil is hot, add onion and garlic.
Fry, stirring occasionally for 5 to 7 minutes or until onion is soft but not brown.
Stir in the bacon and cook for another 4 minutes.
Stir constantly.
Add wine and bring liquid to boil.
Boil rapidly for 2 minutes, then add the tomatoes.
Stir in the salt, pepper and oregano and bring liquid to boil again.
Reduce heat to medium low and continue cooking for 15 minutes more.
Stir occasionally.
Remove from heat.
Put spaghetti in large deep serving dish and pour over the sauce, using 2 large spoons.
Toss mixture until thoroughly coated with sauce.
Sprinkle over the grated cheese and serve at once.
Community content is available under
CC-BY-SA
unless otherwise noted.