Introduction
This is a good way to fit vegetables into your meal plan. Serve with a mixed green salad and some whole wheat bread.
Info
Cook Time: About 60 minutes
Serves: 8
Ingredients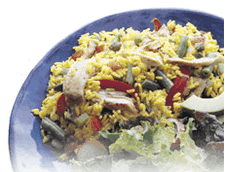 Directions
1.Heat the oil over medium heat in a nonstick pot. Add the onion, garlic, celery, green pepper, and mushrooms. Cook over medium heat, stirring often, for about 3 minutes or until tender.

2.Add the rice and sauté for 2-3 minutes, stirring constantly until it begins to brown.

3.Add the chicken, salt, chicken broth, water, saffron (Sazón), and tomatoes. Bring the water to a boil, then reduce heat to medium-low and let simmer.

4.Cover the pot and let the casserole simmer until the water is absorbed and rice is tender, about 20 minutes.

5.Stir in the peas, corn, and beans, and cook for 8-10 minutes. When everything is hot the casserole is ready to serve. Garnish with olives or capers, if desired.
Source