Introduction
This Spanish-inspired rice dish includes shrimp and lots of vegetables. Try this one-dish meal that's ready in minutes.
Info
Cook Time: 35 minutes
Serves: 4
Ingredients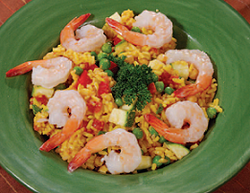 Directions
1.Heat olive oil in oven-safe large skillet. Add garlic and onion. Stir for 3 minutes on medium heat.

2.Add rice, red pepper, zucchini, and ½ cup of chicken broth. Stir for another 5 minutes.

3.Add remaining ingredients except shrimp. Stir and place skillet in the oven.

4.Bake at 375°F for 20 minutes. Add shrimp. Cook until shrimp turns pink, about 5 minutes.
Tips
If you don't have saffron on hand, use yellow rice. Look for it next to other rice varieties in the grocery store.
Variations
To make this recipe vegetarian, substitute vegetable broth instead for chicken broth and omit the shrimp.
Source