Description
Edit
A red-hot, bold combination of real beef, herbs, spices, and red wine is made and packed with vegetables and is great for other main dishes. White wine and chili powder sometimes respectively replace the red wine and the black pepper and keeps a tangy, supreme aroma with the meat and alcohol content, while chili powder largely works for this recipe, too.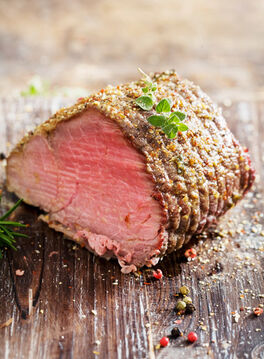 Ingredients
Edit
1 tablespoon ground allspice
2 teaspoons ground mace
1 teaspoon ground cloves
5 tablespoons ground black pepper, reserving 2 tablespoons for seasoning or (7 tablespoons chili powder, reserving 3 tablespoons)
2 tablespoons sliced garlic or (5 tablespoons garlic powder)
4 tablespoons cinnamon powder
16 sprigs fresh thyme
½ cup red wine
2 teaspoons salt, kosher, rock, or iodized only
2 tablespoons olive oil
2 large carrots, roughly chopped
2 medium onions, roughly chopped, red, white, or yellow only
1 head garlic, peeled and smashed
2 celery stalks, roughly chopped
Directions
Edit
Mix all the marinade ingredients together in a strong plastic bag. Put the roast into the bag and seal tightly. Marinate in the refrigerator for 2 days turning the bag at least twice a day.
Remove the roast from the marinade, and let sit at room temperature for 1 hour before browning. Preheat an oven to 275° F.
Heat oil in a large dutch oven over high heat. Pat the roast dry on the excess marinade. Season the roast with salt and the remaining pepper, and sear on all sides until golden brown.
Remove the roast to a dish. Heat the oil in the pan and saute the carrots, onions, garlic, celery, and thyme. Add the red wine and any left-over marinade to the vegetables, and bring it to a simmer.
Scrape up any bits in the bottom of the pot. Place the roast back into the pot.
Cover the pot with a heavy lid and bake, half the total cooking time with the lid on, and half without. Allow 20 minutes per pound of meat, or until internal temperature reaches 145° F, about 2 hours.
Add water to the pot if it looks like it is drying out too fast. Remove the roast to a platter, and let rest for 15 minutes before carving.
Strain the gravy from the pot and put in a sauceboat. Serve hot and plain over rice and gravy, or with other main dishes.
Community content is available under
CC-BY-SA
unless otherwise noted.