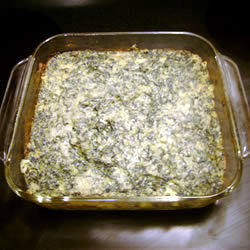 Description
[
]
A natural combination of authentic spinach, cheese, eggs, flour, and butter is enriched with cottage cheese and baked to crisp perfection, as it is great for breakfast, lunch, or dinner and keeps a smooth aroma with the vegetables and cheese.
Ingredients
[
]
Directions
[
]
Mix all ingredients together. Spoon and spread the spinach mixture well.
Cook in a greased baking dish at 350 °F for one hour.
Take the baking dish out of the oven. Cut into squares. Serve hot and plain or with other vegetable dishes.