Prep Time:
1 hour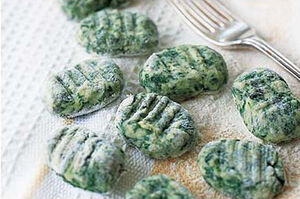 Cook time: ½ hour
Serves: 6
Description
Edit
I love making multi-coloured gnocchi. Experiment by changing the spinach to beets or squash...use your imagination...
Ingredients
Edit
Directions
Edit
Cook the potatoes in a pan of boiling salted water for 20 minutes.
Drain well and press through a strainer into a bowl.
Cook the spinach in 1-teaspoon water for 5 min, until wilted.
Drain and pat dry with paper towels.
Puree and stir into the potatoes.
Add the butter, egg and half of the flour to the potato mixture, mixing well.
Turn out onto a floured counter, gradually kneading in the remaining flour to form a soft dough.
With floured hands, roll the dough into thin ropes and cut off ¾ inch.
Press the center of each dumpling with your finger, drawing it toward you to curl the sides of the gnocchi, alternatively follow the same procedure on the back of a fork.
Cover and set aside to chill.
Bring a pan of salted water to a boil and cook the gnocchi for 2 - 3 minutes, or until they rise to the top of the pan.
Drain well and transfer to serving dishes.
Spoon your favorite sauce over the top and mix sprinkling with Parmesan cheese (if using a red or rose tomato sauce).
Garnish and serve.
Community content is available under
CC-BY-SA
unless otherwise noted.