Introduction
Pesto sauce and cannellini beans are popular in many Italian dishes. No one will know that this pesto sauce has three cups of spinach.
Info
Cook Time: 25 minutes
Serves: 4
Ingredients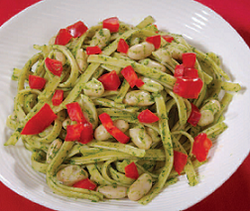 3 cups fresh spinach, stems removed
1 cup fresh basil leaves, stems removed
1 15-oz can of cannellini (white beans), rinsed and drained
Directions
1.Cook pasta as directed on package. Drain and place in large mixing bowl.

2.In a blender, add olive oil, garlic, spinach, basil, parmesan cheese, and chicken broth. Mix well until leaves are blended.

3.Pour sauce over pasta. Mix until pasta is well coated.

4.Add beans and red bell pepper. Lightly toss and serve.
Tip
Make extra pesto and freeze for later use. Need a quick side? Cook pasta or rice. Heat pesto sauce. Toss and serve.
Variation
Use diced tomatoes instead of bell peppers. Try chickpeas instead of white beans.
Source