Description
Edit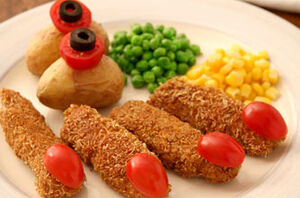 How to make these chicken fingers - a perfect Halloween treat.
Ingredients
Edit
Marinade
Edit
Chicken finger covering
Edit
To decorate
Edit
To serve
Edit
Directions
Edit
Cut each large sausage in half, cover with cling film and beat out a little; cut into strips and put in a bowl.
Marinade
Edit
Mix together the skimmed milk, garlic, thyme, and pear juice (the mixture will separate a little from the pear juice but this is ok).
Pour over the sausage, cover, and leave to marinade in the fridge for 4 hours or overnight.
Heat the oven to 160°C / fan 140°C / 325°F / gas mark 3.
Steam the potatoes for about 1 hour then transfer to a baking tray and bake in the oven for about 15 minutes.
Chicken finger covering
Edit
Whilst the potatoes are cooking, put 50g of Bitesize Shredded Wheat in a food processor and whiz for 1 – 2 minutes, until reduced to fine crumbs.
Mix with the Parmesan, cheddar cheese and paprika and transfer to a large plate.
Whiz the remaining 40 g Bitesize Shredded Wheat in a food processor until fine and spread out onto another plate.
Whisk the egg in a small bowl with the tablespoon of milk.
Remove the chicken strips from the marinade, shaking off any excess and toss in the whizzed up plain Bitesize Shredded Wheat.
Dip in the beaten egg and roll in the cheesy Bitesize Shredded Wheat coating.
Spray light sunflower oil into a large non-stick pan and fry over a medium heat for 2–3 minutes each side, until golden and crisp.
Cool slightly before serving.
To decorate
Edit
Place half a mini tomato on one end of the chicken finger to imitate a red finger nail.
To make the potato eyes, top each potato with half a cherry tomato topped and an olive slice.
To serve
Edit
Serve four chicken fingers with 2 potato eyes, sweetcorn, peas and tomato sauce!.
Community content is available under
CC-BY-SA
unless otherwise noted.