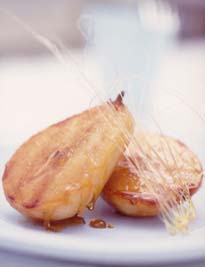 Fine strands of hardened boiled sugar that are used to decorate various desserts. Spun sugar begins by cooking sugar, water and cream of tartar to the crack stage. A fork or whisk is then used to dip into the sugar syrup and draw out fine threads. These hair-like strands can be placed directly on a dessert or on a waxed paper-lined surface, then transferred later to the dish. Once the spun sugar hardens, it may also be gathered and sprinkled or arranged on top of a dessert. Cotton candy is a popular form of spun sugar.
Community content is available under
CC-BY-SA
unless otherwise noted.