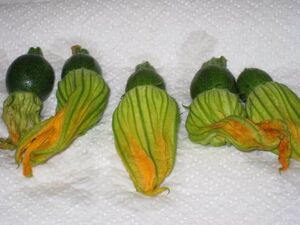 Name Variations
Edit
squash flowers
flor de calabaza
About Squash blossoms
Edit
Wikipedia Article About Squash blossoms on Wikipedia
The flowers from either summer or winter squash are edible and delicious, Squash blossoms come in varying shades of yellow and orange, with flavors that hint of the squash itself. They can be found from late spring through early fall in specialty produce markets as well as Italian, Latin and Filipino markets. Squash blossoms are naturally soft and somewhat limp, but choose those that look fresh, with closed buds. They're extremely perishable and should be stored in the refrigerator for no more than a day. Squash blossoms may be used as a garnish (whole or slivered) for almost everything from soups to main dishes. They also add color and flavor to salads. The most common method of cooking them is sautéing, often after coating the blossoms with a light batter. Squash blossoms are sometimes stuffed with ingredients such as soft cheese before being baked or batter-dipped and fried. They contain vitamins A and C, as well as iron and calcium.
These could be the blossoms of any sort of squash, summer or winter, and are an important part of native American cooking and are also used in many other parts of the world.
Community content is available under
CC-BY-SA
unless otherwise noted.