Description
[
]
This red-hot dumpling is made with ground beef and herbs and cooked to steamy perfection. You can make this with vegetables, spices, and real meat for selling per piece.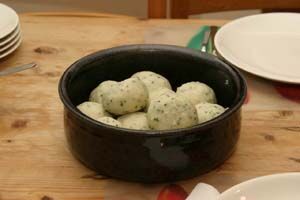 Ingredients
[
]
Directions
[
]
Combine flour, ½ teaspoon salt, and ⅔ cup boiling water in a medium mixing bowl, stirring constantly with a fork. Add ½ cup cold water; mix with the hands until dough forms a ball. Cover; set aside.
Stir together hoisin or soy sauce and cornstarch in a medium mixing bowl. Mix up bok choy, carrot, 3 tablespoons green onion, cilantro, and ¼ teaspoon salt.
Add ground beef and mix well. Using about 1 tablespoon of the filling for each, shape filling into 30 balls. Set aside.
Divide dough in half. Return one portion to the bowl; cover and set aside. Divide the other portion into 15 balls on a well-floured surface.
Roll each dough ball into a 3-inch circle. Place the beef mixture in the center of each circle. Fold the dough up and around all but the top of the meatball, pleating dough firmly.
Gently flatten the bottom of each dumpling. Repeat with the remaining dough and meatballs to make 30 dumplings in total.
Bring water to a boil in a steamer or dutch oven. Place dumplings, with open sides up, on a greased steamer rack; make sure the dumplings do not touch one another.
Place the rack over, but not touching, with the boiling water. Cover and steam dumplings for 16 to 18 minutes or until internal temperature reaches 160° F. Meanwhile, combine rice vinegar or white vinegar and soy sauce.
Sprinkle with 1 tablespoon thinly sliced green onion and chives. Sell per piece, if desired. Serve hot and plain with rice.
Videos
[
]