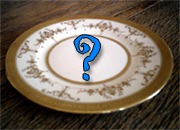 Description
Makes 4 to 6 servings.
Ingredients
3 tablespoons olive oil
1 yellow onion, diced
1 leek, white and pale green part only, cleaned and very thinly sliced
-- Kosher salt
2 medium potatoes, such as Yukon Gold or Yellow Finn, thinly sliced
4 cups vegetable stock
4 ounces stinging nettles
6 ounces sorrel, large stems removed, sliced crosswise
2 tablespoons minced fresh Italian parsley
-- Black pepper in a mill
-- Lemon wedges
Directions
Heat the olive oil in a medium soup pot set over low heat, add the onion and cook until limp, about 7 minutes. Add the leek, stir, season with salt and cook until the leek is wilted, about 7 to 8 minutes more.
Add the potatoes, season with salt and saute 3 to 4 minutes. Add the stock and 4 cups water, increase the heat to medium and bring to a boil. Reduce the heat to low and simmer gently until the potatoes are tender, about 15 to 20 minutes.
Meanwhile, fill a medium saucepan half full with water and add a tablespoon of salt. Bring to a boil over high heat and reduce the heat to medium. Using tongs, plunge the nettles into the water, pushing them down so that they are completely submerged. Simmer 30 seconds.
Use tongs to transfer the nettles to a colander. Shake off excess water.
When the potatoes are tender, add the nettles, sorrel and parsley and cook for 2 minutes. Puree with an immersion blender, taste, and season with salt and pepper.
Serve immediately with lemon wedges alongside or cool in refrigerator for 2 hours and serve chilled.
Community content is available under
CC-BY-SA
unless otherwise noted.