About stove-top pan grilling
Edit
Stove-top pan grilling is an indoor cooking process that uses a grill pan — similar to a frying pan but with raised ridges to emulate the function or look of a gridiron. In pan grilling, heat is applied directly to the food by the raised ridges and indirectly through the heat radiating off the lower pan surface by the stove-top flame. Stove-top grill pans can be used to put sear marks on meat before it is finished by overhead radiant heat. When cooking leaner meats, oil is often applied to the pan ridges to aid in food release.
Some griddles designed for stove-top use incorporate raised ridges in addition to a flat cooking area. These are either on half of the cooking surface or, in the case of reversible two-sided griddles, on one side with the flat surface on the other.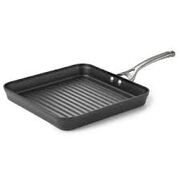 Community content is available under
CC-BY-SA
unless otherwise noted.