Description
[
]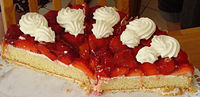 Source my grandma. I found this recipe written neatly on one of her recipe cards. I suspect the recipe came from an old Betty Crocker cookbook but can not prove it.
Ingredients
[
]
Directions
[
]
Fill pie shell with 2 cups of choice berries.
Crush remaining 1 cup of berries.
Soak them with the water for 5 minutes, strain and reserve 1 cup juice.
Combine sugar with the cornstarch; stir into berry juice and cook for 3 minutes or until thick and clear.
Add butter.
Cool slightly and pour over fruit to glaze berries in pie shell.
Chill.
Garnish with whipped cream and strawberries, if desired.