Ever wanted to make strawberry pop tarts from scratch? Read on to get one step closer to tasty-town!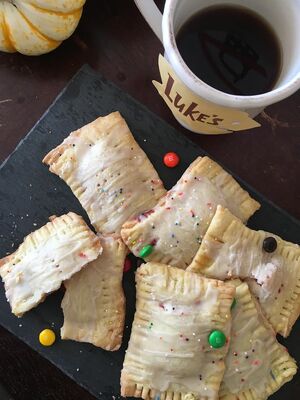 2 cups (8 1/2 ounces) all-purpose flour
1 tablespoon sugar
1 teaspoon salt
1 cup (2 sticks or 8 ounces) unsalted butter, cut into pats
1 large egg
2 tablespoons (1 ounce) milk
1 additional large egg (to brush on pastry)
1lb strawberries
1tb lemon juice
1/2c granulated sugar
1c powdered sugar, sifted
1 1/2-2tb water
1/4 tsp vanilla
rainbow sanding sugar or sprinkles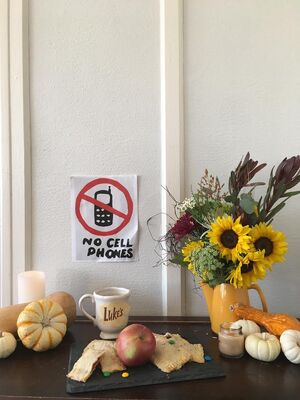 Prepare the jam filling: Hull strawberries and slice into halves. Add strawberries to a small food processor and blend until smooth. Add strawberry puree, lemon juice, and sugar to a small saucepan, set over medium-high heat. Stir to combine and dissolve sugar. Bring mixture to a boil, skimming the foam off of the top. Continue cooking until mixture has thickened. Stir gently until jam reaches desired thickness. *Note: jam will thicken further once chilled. Transfer jam to a small canning jar. Allow to cool to room temperature before securing the lid and transferring to the refrigerator to cool completely.
Make the dough: Whisk together the flour, sugar, and salt. Work in the butter with your fingers, pastry blender or food processor until pea-sized lumps of butter are still visible, and the mixture holds together when you squeeze it. If you've used a food processor, transfer the mixture to a large bowl. Whisk the first egg and milk together and stir them into the dough, mixing just until everything is cohesive, kneading briefly on a well-floured counter if necessary.
Divide the dough in half (approximately 8 1/4 ounces each), shape each half into a smooth rectangle, about 2×4 inches. You can roll this out immediately or wrap each half in plastic and refrigerate for up to 2 days.
Gently place the tarts on a lightly greased or parchment-lined baking sheet. Brush the tops with egg yolk. Place 1 tablespoon of jam on top of a rectangle; place another on top. Prick the top of each tart multiple times with a fork; you want to make sure steam can escape, or the tarts will become billowy pillows rather than flat toaster pastries. Refrigerate the tarts (they don't need to be covered) for 30 minutes, while you preheat your oven to 350°F.
Remove the tarts from the fridge, and bake them for 20 to 25 minutes, until they're a light golden brown. Cool in pan on rack.
Make the icing: In a small bowl, combine sifted powdered sugar with water and vanilla. Decorate cooled pop-tarts with vanilla icing and rainbow sanding sugar or sprinkles.
Community content is available under
CC-BY-SA
unless otherwise noted.