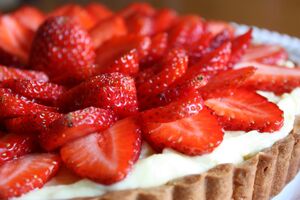 Ingredients
[
]
Directions
[
]
Use an 8- or 9-inch tart pan with removable bottom.
Firmly pat gramham cracker pie shell into tart pan.
Set aside.
Blend milk with instant pudding mix in deep bowl using a whisk or an electric mixer.
Continue mixing at low speed for 1 minute or until pudding is dissolved.
Add grated orange rind.
Let stand for 5 minutes and pour into pie shell.
Let stand for 15 minutes or until set.
Arrange strawberries or other berries decoratively over pudding shortly before serving.
Nutritional information
[
]
Per serving:
Calories: 134 | cho: 18g | pro: 3g | fat: 5g | sod: 320mg | cho: 1mg
Food exchanges: 1 starch | fat exchange;
Low-sodium diet: This recipe is suitable for occasional use. Use unsalted margarine in pie shell.