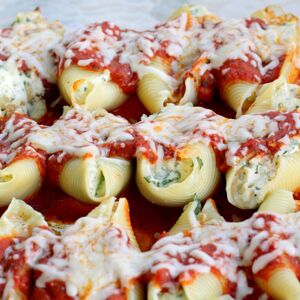 Description
[
]
Contributed by World Recipes Y-Group
Ingredients
[
]
Directions
[
]
Preheat shells according to package directions. This recipe will stuff a little more than half the package.
Drain and cover with cold water to stop cooking and prevent sticking.
Brown meat with amount of spices to suit your taste.
Drain liquid.
Add cream cheese, broccoli and soup.
If you like, you can add chopped fresh mushrooms for a bit more flavor.
Cook and stir occasionally until cream cheese is thoroughly melted.
Lightly grease or spray a large casserole dish.
Gently fill each cooked shell with stuffing mixture and place open side up in casserole with edges just touching.
Pour spaghetti sauce over the shells.
If desired, cover with shredded mozzarella cheese or a mixture of 2 parts shredded mozzarella and 1 part shredded provolone cheese.
Bake in a 325°F oven about 30 – 45 minutes or until heated through and cheeses are melted.
Variation
[
]
A variation of this recipe for seafood lovers:
Melt cream cheese with about 3 tablespoons of butter.
Add soup, broccoli, and precooked frozen salad size shrimp or shredded shrimp or crabmeat (imitation crab is great).
Die-hard Italian food cravers will love it with Italian sausage in place of the ground beef.
Another quick to fix dish, can be done ahead and frozen.
Enjoy.