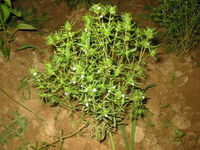 About Summer savory
Edit
Wikipedia Article About Summer Savory on Wikipedia
Summer Savory is a delicate green herb that complements the flavors of vegetables, seafood, and poultry. Best in its fresh form, it is also available dried. Store fresh summer savory in the refrigerator, wrapped in paper towels and enclosed in a plastic bag. Dried summer savory, found with other seasonings in all supermarkets, should be stored away from light, heat, and moisture for up to 1 year; crush in the palm of the hand to release its flavor.
Summer savory (Satureja hortensis) is the better known of the Savory species. It is an annual, but otherwise is similar in use and flavor to the perennial Winter savory.
This herb has lilac tubular flowers which bloom from July to September.
It grows to around 30-60cm in height and has very slender bronze green leaves.
Gardeners wishing to grow this plant should sow from late winter to spring 1.5 mm (1/16 in) deep in good seed compost. Germination usually takes 14-21 days 18-20 °C (65-70 °F). It should then be transplanted when large enough to handle into 7.5 cm (3 in) pots. Later harden off and plant out 38 cm (15 in) apart into ordinary well drained soil in full sun. Pick the leaves as required and for dried herbs August is the best month.
Community content is available under
CC-BY-SA
unless otherwise noted.