Introduction
Hummus is a great item to take with you for lunch or for a snack. Bring along dippable veggies, such as baby carrots and broccoli, to eat with the delicious hummus.
Info
Cook Time:
Serves: 8
Ingredients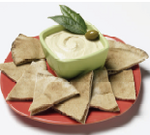 Directions
1.Process garbanzo beans, yogurt, tahini, and garlic in food processor until smooth.

2.Stir in sun-dried tomatoes and herbs; season to taste with lemon juice.

3.Refrigerate two hours before serving.
Source