Introduction
Imitation ice cream- it's delightful and delicious.
Info
Cook Time: About 15 minuts to prepare, 3 hours to freeze
Serves: 8
Ingredients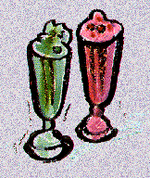 Directions
1.Read the label of pudding mix to see that no milk or other milk product has been included.

2.Prepare pudding as directed, substituting soy protein formula for milk. Gently fold in whipped topping.

3.Pour into freezer container, cover, and freeze until firm, about 3 hours. Makes 1 quart.
Variations
Nut Delight: Fold in 1 cup of your favorite chopped nuts with the whipped topping (not permitted on soft diet).
Source
Super Frozen Delight from Recipes for Better Nutrition During Cancer Treatment by the National Cancer Institute, public domain government resource -- original source of recipe
Community content is available under
CC-BY-SA
unless otherwise noted.