Description
[
]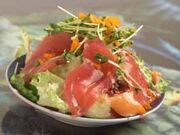 Ingredients
[
]
Directions
[
]
Cook rice let cool for 5 minutes.
Cut cucumber into slices (not peeled) then cut each slice into fours.
Grate carrot.
Add rice vinegar to the rice and mix up.
Add all vegtables to rice and mix up.
Take soy sauce and put it in a closed lid container with wassabi and shake until all wassabi has dissolved into soy sauce.
Mix soy/wassabi sauce into rice.
Crunch up sushi seaweed paper onto the top of salad.
Put imitation crab on salad.
Serve with Pickled ginger.
Other Links
[
]
See also
[
]