Description
Edit
This is the traditional Swedish gravlax recipe. Nowadays lots of varieties have evolved, but this is the original. It is traditionally served with the mustard sauce ('Gravlaxsas') and lemon. I recommend a German or Californian dry or semi-dry white wine to this. Because of the simplicity of the recipe, the salmon has to be of the best quality and freshness available.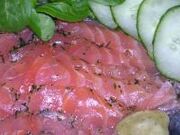 Ingredients
Edit
Mustard sauce
Edit
Directions
Edit
For the salmon, remove all bones with a pair of tweezers, but leave the skin on.
Rinse.
Mash the dill stems in a mortar with a little of the salt.
Save the dill leaves for the sauce.
Cover the flesh side of the fillets with the mixture, and place the fillets flesh-to-flesh in a tray made of glass or stainless steel.
Cover with plastic foil and put a heavy weight on top (e.g. the mortar or a brick).
Keep refrigerated for 72 hours, turning the fillets every 12 hours.
Do not discard the liquid that forms.
Scrape off the spices and discard the liquid.
The salmon will keep refrigerated for about a week.
Add the oil a little at the time (as for mayonnaise), constantly stirring.
Slice the salmon with a sharp, flexible knife in big, thin slices parallel to the skin.
Serve the sauce separately.
Also serve toasted bread and butter.
Community content is available under
CC-BY-SA
unless otherwise noted.