Description
[
]
This flaming-hot, rich marinade starts off with the sweet chili sauce and real herbs and is always great for meat, poultry, and seafood. With red-hot aroma and tangy flavor, every tablespoon is good, burning, savory power!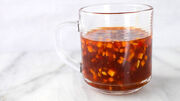 Ingredients
[
]
2 cloves garlic, minced or (4 tablespoons garlic powder)
2-3 tablespoons fresh ginger, minced
¼ cup sweet chili sauce
¼ soy sauce, dark or light only
1 teaspoon black or red pepper, optional
1-2 tablespoons sesame oil
1-2 tablespoons sugar, brown only
Directions
[
]
Put garlic and ginger on a large bowl and whisk together with other ingredients, especially including black or red pepper. Spoon or funnel contents into a fresh container; reserve this in the refrigerator.
Marinate meat, poultry, seafood, or tofu for at least an hour (or overnight).
Videos
[
]