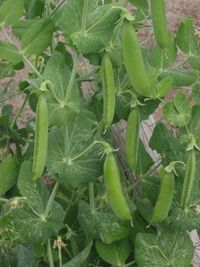 Name Variations
Edit
edamame
sweet bean
vegetable soybean
beer bean
edible soybean
garden soybean
immature soybean
green soybean
About Sweet bean
Edit
Wikipedia Article About Sweet been on Wikipedia
A pea is the small, edible round green bean which grows in a pod on the leguminous vine Pisum sativum. This legume is cooked as a vegetable in many cultures. Several other seeds of the family Fabaceae, most of them round, are also called peas; this article deals with the species Pisum sativum and its cultivars. The pea plant is an annual plant, with a lifecycle of a year.
Edamame is of Chinese origin and was developed in Japan especially for eating out of the pod. Edamame is a variation on the same yellow and black field soybean that is transformed into many popular soy products such as tofu, miso, and soymilk. However, because of its recent introduction into the U.S. market, only a small percentage of U.S. soybean fields are devoted to growing edamame.
Some call edamame the super or wonder vegetable because it is the only vegetable that contains all nine essential amino acids. This makes edamame a complete protein source, similar to meat or eggs. Edamame also contains isoflavonoids. They are found in all soy products and are being studied for their health benefits.
Availability
Edit
Edamame is rarely sold fresh, but is available frozen all year.
Preparation
Edit
To eat beans right out of the shell, boil them until they are al dente (still slightly firm). Rinse to cool slightly, and season as desired. You can easily suck the al dente beans out of the shell. Beans may also be shelled and added to other dishes, such as salads. Beans are easy to shell after they are boiled briefly.
Community content is available under
CC-BY-SA
unless otherwise noted.