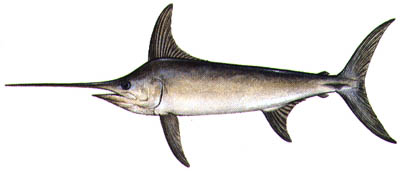 This large food and sport fish is found in temperate waters throughout the world. Swordfish average between 200 to 600 pounds, though some specimens caught weigh over 1,000 pounds. They have a distinctive salt-like dorsal fin and a striking sword-like projection extending from the upper jaw. Their mild-flavored, moderately fat flesh is firm, dense and meat-like, making swordfish one of the most popular fish in the United States. Fresh swordfish is available from late spring to early fall, whereas its available frozen year-round. Both forms are sold in steaks and chunks. Because its so firm, swordfish can be prepared in almost any manner including sautéing, grilling, broiling, baking and poaching.
Community content is available under
CC-BY-SA
unless otherwise noted.